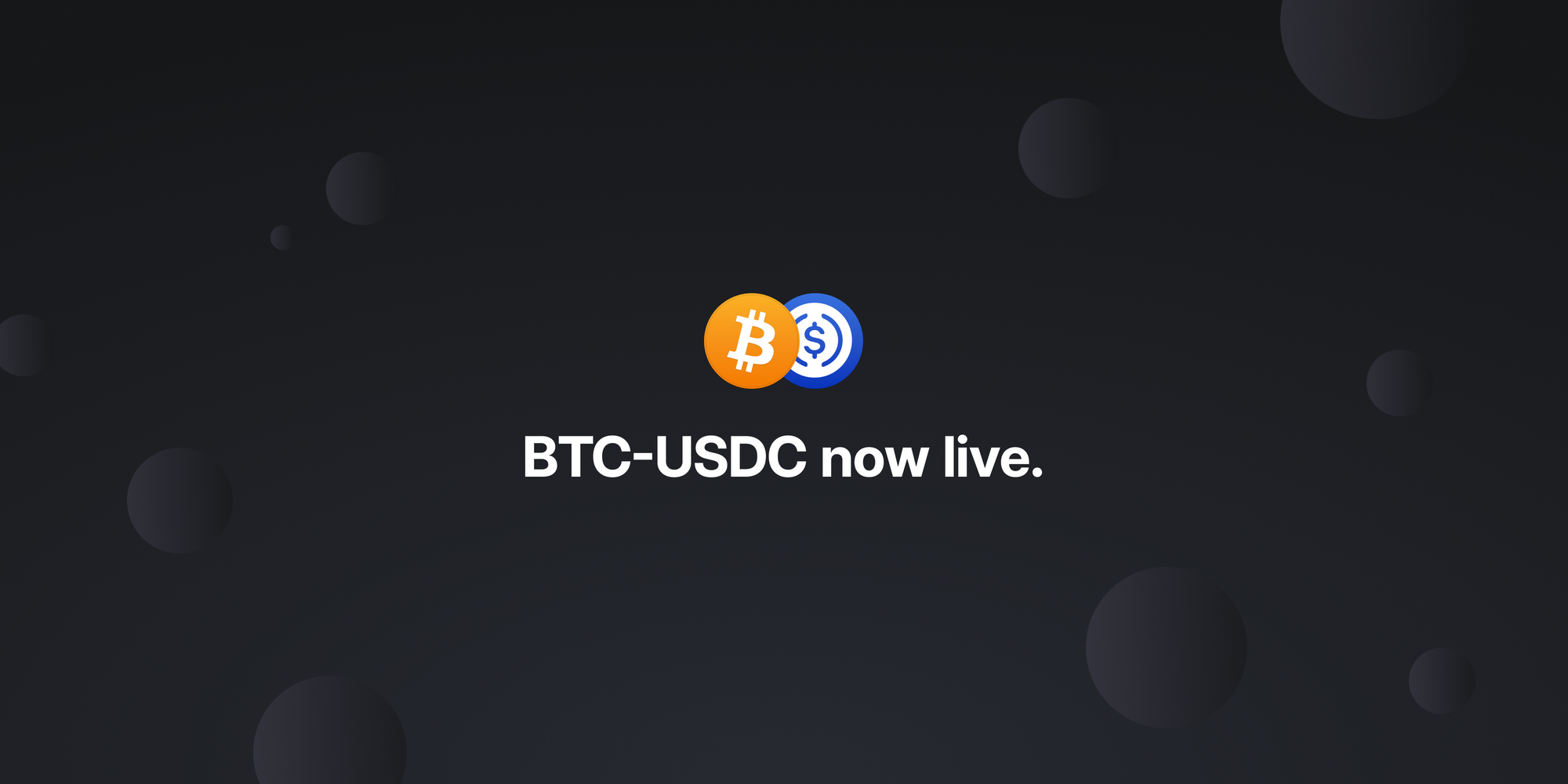 After several weeks of running in Alpha, dYdX is excited to announce the BTC-USDC Perpetual Contract Market is now open to the public. Start trading now!* To celebrate the launch, we are providing 50% off trading fees on the perpetual for the next 7 days.
* Perpetual Markets on dYdX are not available in the United States.
Alpha
We launched our Alpha on April 20th with three goals in mind: platform stability, user onboarding for testing and feedback and liquidity growth. With the help of over fifty Alpha traders and Partners, we have spent the last three weeks stress-testing our system during market volatility, collecting UI & UX feedback, and growing liquidity on our order books with market makers. We have specifically asked traders to ramp up slowly, and to start trading with larger amounts gradually. To date, almost $5M has been traded since going into Alpha, with $3M of that coming since Sunday. We are excited to launch our Perpetual Markets to the public, and gather additional feedback from our community.

Why Trade Perpetuals on dYdX?
dYdX is building a world-class BTC trading product — not just for DeFi, but for the broader crypto market. Traders prioritize liquidity, functionality and the security of their funds, making dYdX the ideal platform to start trading BTC.
Liquidity
dYdX has displayed an ability to spin up and grow new markets. Our ETH-DAI spot market as an example, has grown from 0 to become the ETH-DAI market – the most liquid ETH-DAI market across all exchanges in just over 6 months.
We're confident the BTC Perpetual will grow significantly over the coming months – there is already over 500K USDC on the orderbook, with a 1 USDC spread, despite having less than 100 users on the platform.
Functionality
The dYdX BTC Perpetual retains the core feature set of existing vanilla perpetuals (stablecoins as margin and settlement, with a linear payout, no expiry and up to 10x leverage). We did this to give traders the simplest way to trade the volatility of BTC, without having to simultaneously worry about the changing value of collateral (as with inverse perpetuals margined in BTC, ETH etc). This is just the beginning, and we'll be adding additional functionality around the perpetual in the coming months.
Security/Transparency
Traders are increasingly expressing concerns around opacity and lack of transparency of existing perpetuals. If there was ever a product that made sense to be built with transparency in mind, this is it.
Perpetuals on dYdX have fully transparent and verifiable liquidation mechanisms and insurance funds.
dYdX's infrastructure is built by world-class engineers with experience working for the industry leaders.
Our smart contracts have also been audited by OpenZeppelin — a leading security audit firm. No critical or high severity issues were found.
Funds are in smart contracts at all times: thus you remain in control of your assets.
What's Next?
We plan to continue iterating on the BTC Perpetual as well as launch new perpetual markets in the coming months. We'd love for you to get involved – you can do so in a number of ways:
Try the product: We welcome any and all feedback.
Be a market maker: Makers receive a 2.5bps rebate on all trades. We also work with liquidity providers on a more custom basis – please reach out to us if you're interested. You can find the API docs for the BTC-USDC Perpetual here.
Participate in the Bug bounty: All links and details pertaining to deployed contracts, existing audits and bounty program are here.
Happy trading!