The Deep Dives:
USDC is the first Stablecoin to issue >$1B in <12 months – Why does that matter?
Last week, USD Coin, also known as USDC – the stablecoin issued jointly by Coinbase and Circle, became the first stablecoin to have more than $1B in assets issued in under a year.
In fact, it took the stablecoin only 10 months to reach…. [Read More Here]
How Bitcoin Could Save Dying Pension Plans…For a While..
It is no surprise to anyone, that public and government pensions are dying.
For the first time in human history, we are about to have more people drawing from pension plans, than those who are paying into them. Making them nothing more than a glorified, government run, ponzi-scheme. But… [Read More Here]
---
The Summaries:
Monero's Emission Drop
Unlike many coins, Monero doesn't have a set "halvening" to adjust the amount of coins rewarded per block, instead, it has a steady decline on a per block basis. This often causes the change in Monero's inflation rate to be overlooked.
Today, for the first time, Monero's emission rate dropped to 0.0000146% per block, vs Bitcoin's 0.00002676% per block.
Monero's block rewards will continue on this steady decline, until early in 2020 when the blockchain has reached a level off point that will have emission set to a flat rate of 0.3 Monero per minute, with the goal of that rate eventually finding a stable equilibrium with the rate of lost Monero exiting circulation.
Bitcoin's strategy is to cap their emissions once reaching the 21M Bitcoin circulation mark and only having transaction fees remain to pay miners to secure the network.
Neither method has been tested at scale on a top ten coin yet, as no network is yet mature enough to reach its long-term stasis point, but, in the short term the low emission rate of Monero, coupled with the fact that it is still early on in its life cycle (one halving-worth of blocks behind Bitcoin) and touts private transactions should make the often overlooked emission rate something attractive to the investor side of the market.
Ethereum Crosses 200,000 Live Smart Contracts
Over the past year, one of the largest narratives in crypto has been "the war" to be the 'global computer platform' while competitors like EOS and Tron boast quick and modern apps, there was growing concern about the competitiveness of Ethereum, due to their focus on decentralization over speed and capacity.
While Ethereum supporters hold their breath awaiting Eth2.0 (set to have its Phase0 roll out in early Winter of 2020), there still remains a strong argument to be made for Ethereum's broad reach as a platform.
While Coffee&Coin does not support a 'one winner take all' mentality, it can't be ignored, that as we pursue mainstream adoption this will inevitably mean that blockchain's need to be implemented and supported by large B2C and B2B corporations.
Ethereum is currently the undisputed leader in this domain with mainstream corporations like Visa choosing to roll out their own blockchain systems on the Ethereum network.
The driver for this adoption is hidden within the news today that Ethereum crossed "200,000" live smart contracts. While some can argue that a large portion of these contracts are ICO tokens and airdrops, as /u/dmihal correctly pointed out on Reddit, "the bigger takeaway from this number is that Ethereum is where developer activity is."
Ethereum benefits not only from a large contributor community, but, it's robust tool set and learning opportunities for developers have resulted in Ethereum's contract language Solidity, having the most developers and in-turn being the most in-demand skillset in corporate adoption due to the ease of hiring and scaling production teams around Ethereum.
---
By The Data: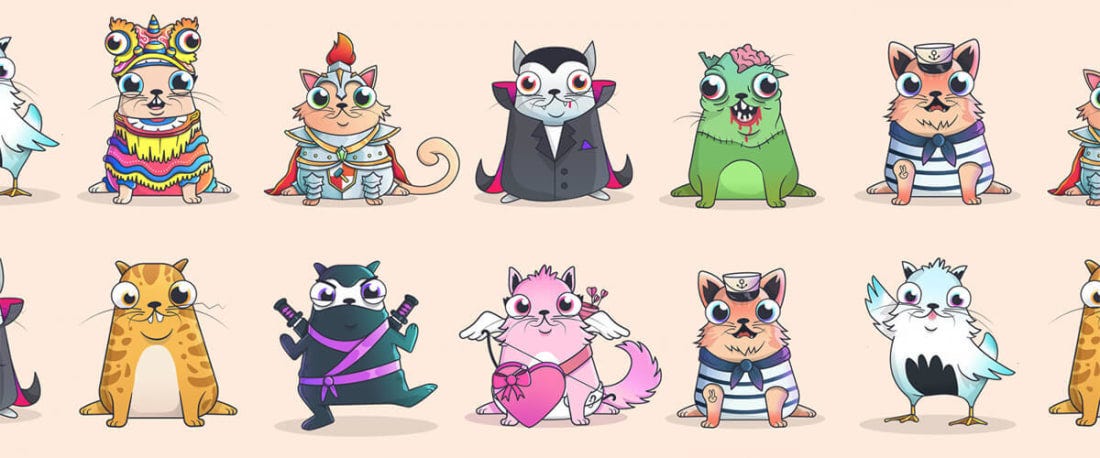 Our Data Shows CoinDesk Got it Wrong. Gamers ARE Excited by NFTs (and why we are tired of CryptoKitties)
Cryptokitties seemed like it could do no wrong.
Just two short years ago, this blockchain based flurry of feline fun was the darling of the Ethereum blockchain, bringing mainstream users into the fold for the first time and crippling the networks infrastructure…. [Read the Full Article]
---
Great Tweets:
---
Major News Snippets:
China Reveals A Central Bank Crypto:
China reveals that their central bank has spent the last five years working on their own cryptocurrency. The system is a two-tier system combining both onchain and offchain systems which the 'People's Bank of China' said is required to achieve the appropriate throughput to be used at a national scale.
[Read More & Discuss this on /r/Cryptocurrency]
Former Game Director for "Magic: The Gathering" Joins Ethereum Game Startup:
Leading competitive card game "Magic: The Gathering" has been the top of the card battle genre since it was launched by "Wizards of the Cost" (also the makers of Dungeons & Dragons) in 1993. To this day, the game boasts an estimated 35 million players worldwide, which while massive for a physical game is still a fraction of online competitors like 'Hearthstone' by Blizzard which boasts 100 million players. Knowing they needed to compete with emerging digital games, Wizards of the Coast brought on game designer Chris Clay, to build our "Magic: The Gathering – Arena" (MtGA) their own digital card game. Clay had previously spent most of his career focused on hero design for "Infinite Crisis" a now-defunct superhero MOBA by Warner Brothers, with mild reception. Clay helped build out the teams for MtGA and run the project as Game Director for two years, leaving just after the games public beta launch. While the business reception of MtGA is still to be seen, Clay's updates, insights and community-minded nature made him a huge hit with Magic: The Gathering's often picky audience. This past week, Immutable, the studio behind "Gods: Unchained" an Ethereum based card-game in the spirit of "Magic: The Gathering" announced that Chris Clay was joining their team as Game Director for "Gods: Unchained" to help drive on delivering a AAA quality game to the blockchain.
[Read More & Discuss on /r/EthTrader]
Ethereum Enterprise Alliance Announces MAINNET Initiative:
On August 6th, the Ethereum Enterprise Alliance (EEA), an organization consisting of enterprise companies focused on blockchain technology (including brands like Accenture, Cisco, Intel, ING Bank, JP Morgan Chase, Microsoft, Pricewaterhouse Coopers (PWC), and Scotiabank) announced the launch of their MAINNET initiative under the direction of new board member Aya Miyaguchi, Executive Director of the Ethereum Foundation. The MAINNET initiative is focused on creating partnerships between the EEA's enterprise clients and startups who are developing new technology and tools for the launch of Ethereum 2.0, both to help ensure that these startups have the funding that they need to bring their tools to fruition, as well as to create industry standards and documentation so that enterprises can easily and scalable adopt ETH2.0 as an industry standard upon launch.
[Read More & Comment On This Story at /r/EthTrader]
Ripple (XRP) Moving Aggressively On Investment Deals:
The crypto community is often divided on Ripple, those who love it, love it with a passion – but, crypto hard knocks always point out its "over-centralization." Regardless of where you fall on the matter, there is no disputing that XRP, the token by Ripple Inc is one of the largest cryptocurrencies on the market, and has unique advantages since its backed by a for-profit company instead of an open-source foundation. XRP was started with the intention of providing more reliable and cost-effective international payments, a market which rakes in about $690B USD annually in fees according to the World Bank. This past year, Ripple Inc made an aggressive move, investing $30M into the international money mover "MoneyGram" to leverage their physical store infrastructure for more exposure to XRP transfers. Analysts believe the move was likely due to Facebook's announcement of the 'Libra' Cryptocurrency (which is partnered with payment giants like Visa, Mastercard and PayPal). The Libra cryptocurrency, if it can pass government scrutiny, is likely to be integrated into Facebook owned messenger "WhatsApp" which is the largest messenger in leading remittance countries (India, Philippines, Mexico and Nigeria) boasting more than 1.5 billion users world wide making it an easy way for Facebook to gobble up the market that Ripple has long been chasing. While XRP has managed to secure a strong footing in the bank transfers market, it will need to move quickly to stay relevant as a consumer facing transfer metric. Ripple Inc has in-turn announced they are aggressively eyeing-up multiple international deals similar to their MoneyGram investment in hopes of rapidly scaling up the use of their consumer xRapid payment. But, this announcement highlights that Ripple Inc knows they are the first top ten crypto to face a serious existential threat from a major company – if they can make the right investments and Facebook continues to be bogged down in legislation it will spell huge financial wins for Ripple Inc, but, if they can't Facebook, Mastercard, Visa and PayPal's payment mafia could spell disaster for XRP.
[Read More & Discuss This Story On /r/Ripple]
---
News Roundup:
---
Other Great Publications This Week:
---
Coffee&Coin is a free weekly newsletter published every Monday, bringing you the latest news from the blockchain world.
If you're reading this on the web be sure to subscribe below to our newsletter and never miss an edition.
Want to follow us?
Coffee&Coin on Reddit
Coffee&Coin on Facebook
@AdamSCochran (Editor) on Twitter