Level up your open finance game three times a week. Subscribe to the Bankless program below.
---
Dear Crypto Natives,
Most people aren't like us. They don't want to think deeply about the nature of money. They don't want to think about finance at all.
Crypto will pull them in anyway. One niche at a time.
Take this one: did you know the sports card market is $5.4 billion in the U.S. alone?
Billions of dollars spent on physical sports cards. All limited by analog technology and static experiences. Flea markets instead of Uniswap.
For the past 40 years software has been eating the world. Now crypto makes it possible for software to eat scarce goods. And not just eat them—expand them. Make them more immersive.
As software eats the sports card market that's another niche pulled into crypto…not finance geeks…this time we're pulling in Cristiano Ronaldo fans.
Fantasy sports meets sports cards meets crypto.
If football is your thing (soccer for you North Americans) you're gonna love this tactic.
And if it's not—I want you to get inspired by what SoRare is doing. They're bringing DeFi to a whole new demographic. Using open finance to create open gaming.
This is one of the 100,000 startup ideas waiting to be built on crypto.
Let's see figure out how to play fantasy football on Ethereum.
-RSA
---
🙏Sponsor: Aave—earn high yields on deposits & borrow at the best possible rate!
---
TACTICS TUESDAY:
Tactic #41: How to make money playing fantasy football on Ethereum
In this tactic we're going to learn how to value officially-licensed football player cards on Sorare, how to build a strong team, how to play games every weekend, and how to collect high valued cards that can potentially be sold later for a profit!
Goal: Learn how to collect, build, and play with football collectibles

Skill: Beginner-Intermediate

Effort: 2-4 hours per week

ROI: Some cards are re-selling for 3x!
---
⚠️ Note: Sorare recently migrated from Loom over to Ethereum so numbers on dApp radar have not been updated to reflect the change.
---
What is Ethereum's promise for gaming?
Guess Post by: Brian O'Hagan, an open gaming crypto strategist
Gaming has always been at the bleeding edge of technology.
Ethereum unlocks new opportunities for gamers to become creators, entrepreneurs, and even service providers. Web3 technologies are evolving the nature of gaming by providing 4 new features:
Digital Ownership: Gamers can actually own and possess their in-game assets on the internet for the first time, unlocking real ownership of assets, and in certain cases turning in-game purchases into profitable investments.

Scarcity: The value of any collectible item, virtual or physical, is largely driven by scarcity. The scarcity (or lack thereof) of a crypto collectible is known by inspecting the NFT contract. In Sorare, different cards have different levels of scarcity, impacting the value of the card.

Provenance: We can now have a complete digital history of the asset from its origins available for anyone to view and verify at any time. It's particularly useful for digitizing memorabilia. The sports card collection market is worth $5.4 billion in the US alone.

Peripheral markets: In-game items that are represented as tokens can be leveraged in new decentralized applications. In Sorare's case, some developers could create permissionless lending markets on these cards.
In Sorare's fantasy football game, the value of player cards is not entirely driven by the player's status, or the card's scarcity, but rather by the utility of the card in-game. To understand that, let's dive into the gameplay and its subsequent microeconomic incentives.
---
👉 All of Sorare's digital collectibles are officially licensed by the football club. The platform currently features 41 licensed clubs on the platform with more added every week!
---
How to get started with Sorare?
1 – Create your account and understand the game mechanics
Start by creating an account on Sorare, it will take 30 seconds.
When you sign-up, you will be offered a random pack of 10 common cards. These common cards are not real in-game collectibles, they simply enable a free-to-play experience.
With these cards, you will be able to compose your first team and participate in the Rookie league.
---
👉 Note: You'll have to verify your email to complete the registration. Once verified, the "Claim 10 free common cards" will be highlighted at the top of the screen in blue!
---
A team consists of a keeper, a defender, midfielder, attacker, and the extra player of your choice.
Like for all fantasy sports, your team's score is based on the real-life performance of your players on that weekend. Results come out every Monday.
Depending on your team's score, you will earn rewards. Rewards range from rare to unique player cards plus ETH for the Division winners.
Your score and subsequent rewards will depend on the type of player cards you own. More powerful cards give higher multipliers to a player's score and as each Division has a power cap, you can be assured of only competing against managers of similar strengths to you.
If you wish to experience the play-to-earn experience of Sorare, you will have to invest some time, money and most importantly, you will need to have the skills to build the right football tactics or scout the right players early on.
2 – Scout players, build your team
Here's how to start collecting some player cards: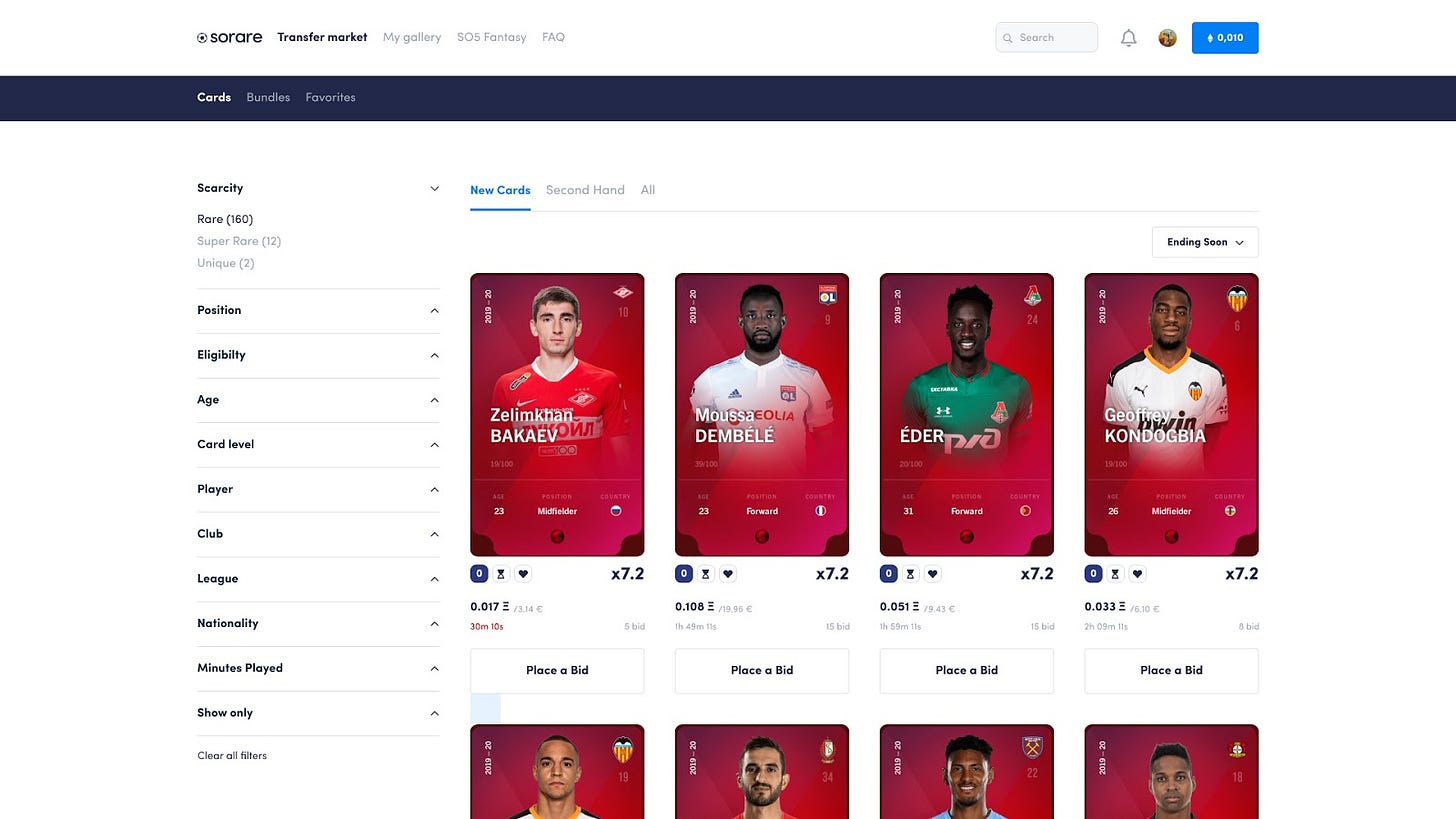 Each season, 111 player cards per player will be minted as non-fungible tokens.
Here's how the in-game items (i.e. player cards) are auctioned throughout the season:
100 rare cards with a starting price of 0.01 ETH → rare cards start with an initial multiplier of 7.2x

10 super rare cards with a starting price of 0.1 ETH → super rare cards start with an initial multiplier of 14.4x

1 unique card with a starting price of 1 ETH → unique cards start with an initial multiplier of 21.6x
You get the gist of it, the scarcer the cards, the higher your player scores (thanks to the bonus).
However, if your player does not compete in real-life during the weekend fixture (let's say Ronaldo is injured) then your card does not score any points. Therefore, it's vital to understand the utility of the player in real life (is he injured often, is he on the starting team most of the time, does he score goals or defends well, etc).
---
👉 Note: You can view player stats, previous SO5 scores, the player's game schedule, and more by searching the player's name on Sorare. Here's Cristiano Ronaldo's Sorare page for example. You can also view details on specific clubs, countries, and even other managers!
---
From that perspective, Sorare is one of the first projects on Ethereum where the non-fungible token prices are driven by utility of the card rather than pure collectability or speculation (even though you will find some too).
Here is a breakdown of the card attributes in a detailed video tutorial made by the Sorare Manager, PAP.
3 – Start playing
After having bought a team of 5 players, with at least 1 goalkeeper, 1 defender, and 1 midfielder, you will be able to play SO5 (for Sorare5) competitively.
You will see a list of different divisions in which you can compete. The more power (i.e. scarcity and higher levels) you cards have, the more competitive you will be for the top divisions with the highest rewards.
You can enter 1 team per division, so it does make sense for you to collect more than 5 players if you want to compete across multiple divisions.
Different divisions are made available based on the new licensed football clubs and leagues on Sorare. There's a division that only allows player cards from the Belgian football competition, and there's one for under-23 footballers.
The most common division is the all-star division, which allows you to compose a team with players from every team.
Below is a visual representation of the different divisions available (as of May 2020).
Once you've chosen a division you want to compete in, you will be taken to the team composer to select your team. Don't forget to choose players based on their expected performances that weekend: will they be playing, are they in form, etc.
---
👉 For new players, the rookie league is the best option until you gain your footing.
---
You might be thinking: how can a fantasy sports game keep running despite these turbulent times with no sport?
Well, the Sorare team found a solution until football resumes: Replay Tournaments! They are replaying game fixtures at random from the 18-19' and 19-20' season.
You can find more information about the current game here.
In the case you missed it, Sorare has recently brought to Ethereum: Cristiano Ronaldo, Maradona, and more than 45 officially licensed clubs.
Cristiano Ronaldo's unique card is currently on sale!
4 – Choose your Manager Strategy
There are three strategies to choose from:
Collectors: Criteria such as the popularity of player IRL, team, nationality, age, specific serial numbers or special editions are all factors driving value for these managers. Despite their willingness to bid higher, they are still likely to be speculating that the cards future value will appreciate materially in the long term. Think of the implications of buying Maradona before he was playing in Europe.

Traders: The objective is simple—buy cheap and resell at a higher price with a focus on short-term. Players are bought and re-listed often based on the player's real-life form and/or favorable upcoming fixtures. They act here like market makers or liquidity providers for the secondary market.

Gamers: Gamers are primarily motivated by assembling the most competitive Tournament team(s). This does not mean that there is no financial rationale for this strategy, as it is the in-game rewards that are being targeted to provide the immediate return on investment.
Pick a strategy based on your talents and interest areas.
Final thoughts
While the potential for DeFi to create an open financial system is one of the driving narratives in Ethereum right now, finance does not necessarily resonate with the majority of people. Andrew Steinwold explains why here.
Statistics from Nonfungible or StateofTheDapps clearly show gaming are still the crypto apps with the most amount of daily active users. More importantly, there's evidence that these games onboard non-crypto enthusiasts.
I believe that a mainstream game category like fantasy sports, with the right NFT game economics (with prices driven by in-game utility and scarcity) and the biggest sport in the world, could introduce crypto to the masses.
The retail market doesn't care about ideology, it cares about better products. There are 200 million people playing fantasy sports each year (a number increasing every year), with zero professional infrastructure.
NFTs make it possible for the best fantasy managers to earn money by playing fantasy sports. And it's just getting started.
---
Author bio
Brian O'Hagan is Crypto Strategist around Decentralised Finance & Open Games. He'd like to thank PAP for the extra content from his Youtube channel, YNWA for proof-reading, and SorareData for the awesome data!
---
Action steps
---
Go Bankless. $12 / mo. Includes archive access, Inner Circle & Deals—(pay w/ crypto)
---
🙏Thanks to our sponsor
🙏Thanks to our sponsor
Aave is an open source and non-custodial protocol for money market creation. Originally launched with the Aave Market, it now supports Uniswap and TokenSet markets and enables users and developers to earn interest and leverage their assets. Aave also pioneered Flash Loans, an innovative DeFi building block for developers to build self-liquidations, collateral swaps, and more. Check it out here.
---
Not financial or tax advice. This newsletter is strictly educational and is not investment advice or a solicitation to buy or sell any assets or to make any financial decisions. This newsletter is not tax advice. Talk to your accountant. Do your own research.
---
Disclosure. From time-to-time I may add links in this newsletter to products I use. I may receive commission if you make a purchase through one of these links. I'll always disclose when this is the case.