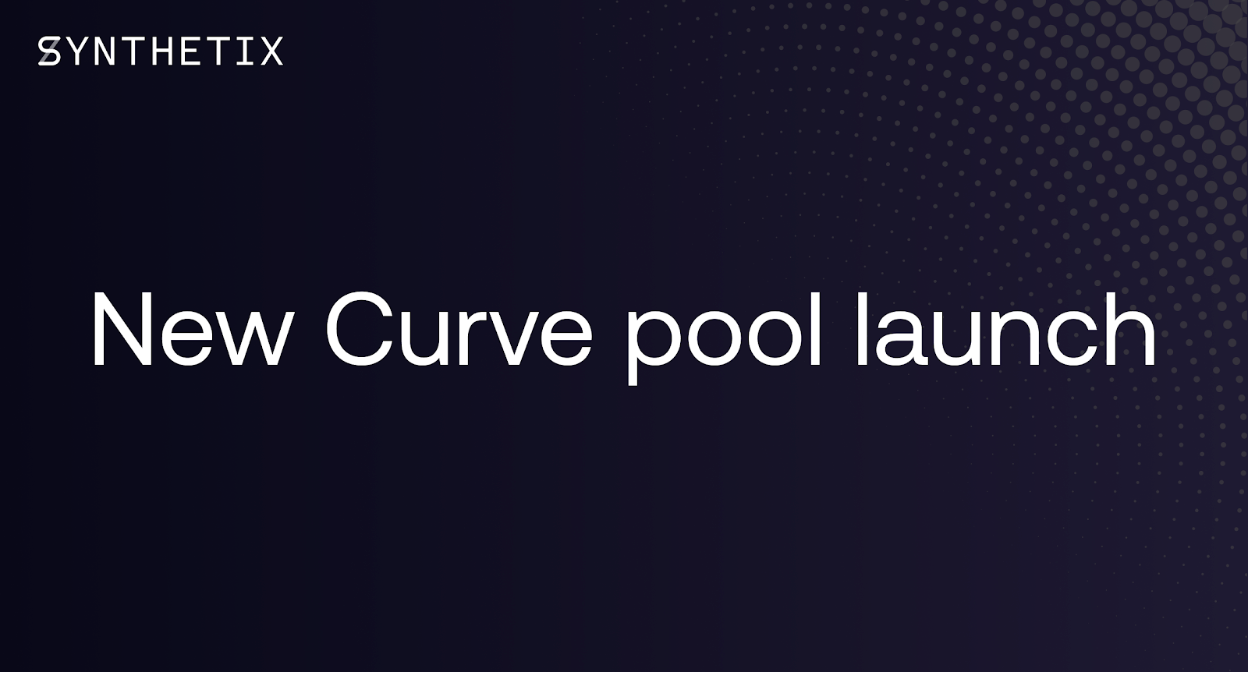 The Curve team has deployed a new Curve pool after the vulnerability discovered earlier this week in the previous pool. The new Curve pool is now ready for stablecoin liquidity providers to add liquidity. The Curve contract deployed for this pool has been audited and the details of the audit can be found at docs.synthetix.io/integrations. As promised, we have also added a section to our docs site here with detailed information about Synthetix integrations, including the new Curve pool.
In the next day, we will also deploy a new CurveRewards contract for liquidity providers to stake their new Curve LP tokens into. This new Curve pool reward system will operate for about 3-4 weeks, after which we will migrate to an upgraded liquidity pool model that utilises Aave's interest-bearing stablecoins once this new contract has been audited.
Curve is an exchange liquidity pool on Ethereum (like Uniswap) designed for:
(1) extremely efficient stablecoin trading
(2) low risk, supplemental fee income for liquidity providers, without an opportunity cost.
Curve allows users (and smart contracts like 1inch, Paraswap, Totle and Dex.ag) to trade between stablecoins with a bespoke low slippage, low fee algorithm designed specifically for stablecoins and earn fees.
The current liquidity incentive of 64,000 SNX will be migrated to the new contract from tomorrow morning (AEDT), allowing liquidity providers in the new Curve pool to start earning rewards.
To protect liquidity providers adding liquidity as the new pool grows, Curve have implemented a slippage protection lock in the UI if a deposit would incur more than 3% slippage.
Transitioning from the previous Curve pool
Anyone who contributed to the previous contract who wishes to contribute to the new Curve pool needs to unwrap their sUSD and stablecoins. You can follow these instructions to unstake and remove your liquidity. The new pool no longer accepts TrueUSD (TUSD), so anyone who wishes to add liquidity should replace their TUSD with another eligible stablecoin (sUSD, DAI, USDC, or USDT).
How to contribute to the new Curve pool
You can add liquidity in any stablecoins but the UI will block deposits that would incur slippage of more than 3%. Ideally aim for equal portions of sUSD, DAI, USDC, or USDT, which you can do on Curve.
Go to https://beta.curve.fi/susdv2
Click on Deposit link at the top
If you want to deposit unequal tokens deselect "add all coins in balanced proportions"
[OPTIONAL] Select "Infinite approval" if you don't want to have to continue approving the contract every time you interact with it.
[OPTIONAL] Exchange some of your existing balance into the other stable coins for a balanced deposit
When you have bought your other stablecoins then head back to the Deposit screen
Now you can Deposit — a balanced deposit will give you a bonus instead of incurring slippage.
This will kick off several approval transactions and the Deposit
Your successful transaction will send you LP (Liquidity Provider) tokens Curve.fi DAI/USDC/USDT/sUSD
How to stake Curve LP Tokens in Mintr
This process will be updated once CurveRewards are integrated into Mintr.
As always, stay tuned in Discord or via Twitter for any further information.